Published by CUInsight
Capital is an important portion of any financial institution's balance sheet, as it can be used to absorb losses and designates the percentage of assets a financial institution can stand to lose without becoming insolvent. The overarching intention of capital is to reduce system risk and protect depositors and insurance funds.
While capital is clearly at the core of an institution's ability to grow and succeed, answering the question "How Much Capital is Enough?" remains challenging as there is no single right answer, other than "It Depends." A financial institution needs sufficient capital to protect itself from negative events. Simply put, if you take more risk, you need more capital. The trick is to understand how much additional risk you are taking and how much additional capital is needed to cover losses in the event that adversarial events occur. Models can provide you these answers. Let's examine some of the basics.
A Strategic Net Worth Analysis Process
A Strategic Net Worth Analysis is a tool for defining the level of capital required to satisfy regulatory requirements, absorb losses from various risks, and to support strategic initiatives. A Strategic Net Worth Analysis allows you to analyze your current position and will answer that question of "how much capital is needed."
The basic concept is the formula below:

Most credit unions start with NCUA's definition of well-capitalized, which is having a net worth to assets ratio of 7% or greater. Added to that is an amount of capital required to absorb losses given severely adverse scenarios which requires some form of stress testing. This analysis investigates exposures in risk areas such as credit, concentration, liquidity, operation, and reputation, along with interest rate risk, in order to better quantify an institution's risk position and strategic capital requirements.
Examples are shown below of economic scenarios that can be performed:
NCUA Supervisory Scenarios: Baseline, Severely Adverse used for Capital Planning and Stress Testing (CPST)
Idiosyncratic Scenarios: Institution-specific risks, such as natural disasters, cyber security threats, large deposit runoff
Systemic Risk Scenario: such as the COVID-19 pandemic
The best way to determine a proper capital holding requires a solid understanding of your current position, smart planning, and strong analytics. The analysis requires a good amount of data gathering and preparation to develop test scenarios. Specifically, the maintenance of historical data is critical, policies should be put in place, risks should be identified so that they can be modeled, and assumptions must be made given adverse impacts. Credit projections should include at a minimum, assumptions such as LGDs (loss given defaults), CDRs (credit default rates), and VPRs (voluntary prepayment rates). Each loan should be modeled separately and assumptions made specific to their loan to values, coupons, and weighted average lives.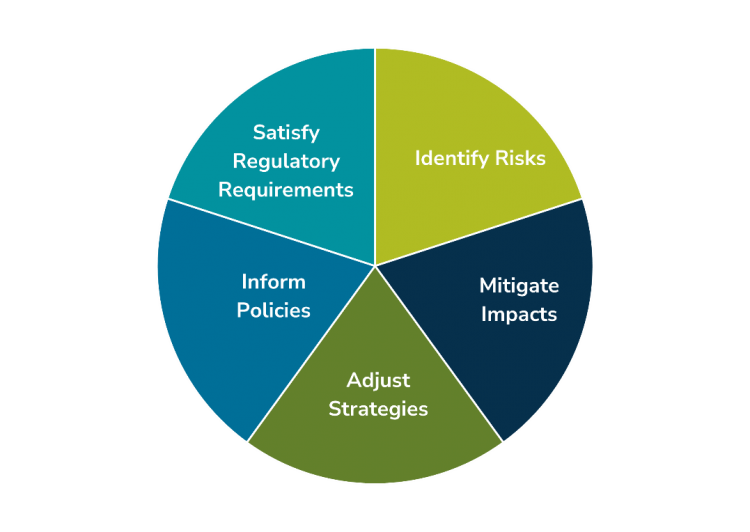 Financial regulators require such testing for institutions with more than $10 billion in assets, but we've found it to be an important exercise for financial institutions of all sizes. Annual stress tests aim to provide answers. Financial institutions will then have the ability to quickly adjust their balance sheets. The most critical part of the process.